Functions of the Heated Bed
For printing ABS and other materials, heated bed is an effective auxiliary feature. After heated, materials will be extruded onto a build plate. Due to shrinkage of materials, the first layer adhering to the plane can be easily warped up. After a heated bed is started, since the first layer always maintains a proper temperature, shrinkage and warp-up of model can be avoided. The model can be adhered to the build plate more firmly when printed.
Technical Parameters of the Heated Bed
Effective heating area: 185mm*224 mm
Power: 147W (±10%)
Voltage: DC+24V
Temperature range (at 25℃): 25℃~100℃
How to Start a Heated Bed
If the printed consumable is ABS, we recommend setting the bed temperature to 70℃.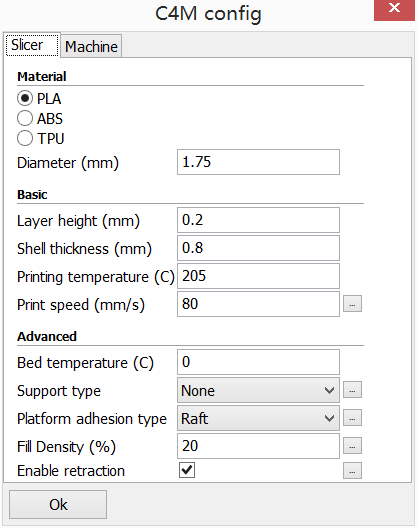 For specific settings of C4M software parameters, please refer to: http://mostfun.cn/makeprintfile/
Notes: The heated bed is a heating power device. Starting a heated bed may directly lead to a great increase in power consumption. So if there are no special requirements, it is recommended to shut down the heated bed.